June 29, 2019
FedUp PAC Staff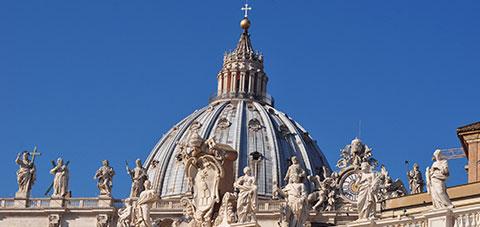 Democrats to Catholics – "Catholics not Welcome!"
It's clear from recent actions and statements by national Democrats that they want to return to the anti-Catholic bigotry of the past by using the power of the government to force Catholics to change their religious beliefs, impose a "religious test" on Catholics, and expel Catholics from public life.
Background Documentation:
The Democrats have abandoned Catholics, subhead: If you value religious education or life's sanctity, you're not welcome in the party – Wall Street Journal op-ed by Cardinal Timothy Dolan, the Archbishop of New York, March 22, 2018.

"An esteemed pro-life Democrat in Illinois, Rep. Dan Lipinski, effectively was blacklisted by his own party. Last year, Democratic National Committee Chairman Tom Perez insisted that pro-life candidates have no place in the modern Democratic Party."

Cardinal Dolan went on to conclude ". . . I'm a pastor, not a politician, and I've certainly had spats and disappointments with politicians from both of America's leading parties. But it saddens me, and weakens the democracy millions of Americans cherish, when the party that once embraced Catholics now slams the door on us."
Cardinal Dolan, reacting to Governor Andrew Cuomo (D-NY) signing and publicly celebrating the passage of an abortion bill that legalizes abortion up until the point of birth.

"Ghoulish, grisly, gruesome – these are the words that people, independent observers are using about this so-called reproductive health act," Dolan said. Fox News, Jan. 28, 2018
Senators Kamala Harris (D-CA) and Mazie Hirono (D-HI) during a December 2018 Senate Judiciary Committee hearing of Judge Brian C. Buescher (a pro-life Catholic) for the District of Nebraska, asked whether belonging to the Knights of Columbus (a highly regarded Catholic organization) could prevent him from hearing cases "fairly and impartially."
Senator Cory Booker (D-NJ), during the same December 2018 Senate Judiciary Committee hearing applied a "religious test" to Judge Buescher when he brought up pro-life statements Buescher made during his run for Nebraska Attorney General in 2014 when he stated: "Why should a litigant in your courtroom expect to get a fair hearing from an impartial judge in a case involving abortion rights?"
Senator Diane Feinstein (D-CA), in a September 2017 Senate Judiciary Committee hearing, led the attack on Catholic Judge Amy Coney Barrett, saying "the dogma [Catholicism] lives loudly within you." Soon thereafter, Senator Dick Durbin (D-IL) criticized Barrett's use of the term "orthodox Catholic" when he snarked "Do you consider yourself an "orthodox Catholic," a term commonly used as a smear against observant Catholics.
Democrat/socialist Bernie Sanders, during a June 2017 Budget hearing regarding Russell Vought's nomination for Deputy Director of the office of Management and Budget, attacked Vought for his Catholic faith by angrily condemning his faith as "indefensible" and "hateful."
Democrat Senators pressured Dr. Mark Green (a West Point graduate, decorated Army flight surgeon, and Tennessee State Senator) to withdraw his nomination for Secretary of the Army after they relentlessly criticized his strong Catholic faith which they declared was anti-Muslim.
In October 2016, John Podesta, Hillary Clinton's campaign manager, bragged about "infiltrating" the Catholic Church with liberals who could foment a "revolution" to force the "middle ages dictatorship" of the Catholic Church to accept same-sex marriage, abortion, and other sacrosanct liberal beliefs in emails released by WikiLeaks.
Hillary Clinton said that "deep-seated cultural codes, religious beliefs and structural biases have to be changed" regarding the anti-abortion position of Catholics and other Christians at The Women of the World Summit, April 25, 2015.
Governor Andrew Como to Catholics: You're not welcome.

"Who are they? Are they these extreme conservatives who are right to life, pro-assault weapons, anti-gay? Is that who they are? Because if that's who they are and they're the extreme conservatives, they have no place in the state of New York because that's not who New Yorkers are."

Friday January 17, 2014 on "The Capital Pressroom," an Albany radio talk show.
Democrats "booed" God when party officials offered an amendment to their 2012 Presidential Platform re-inserting references to God.

Prior to that, Democrat leaders removed all references to God from their Platform. When public outcry forced the leaders to put forth an Amendment placing references to God back into the Platform, the Convention goers booed and many believe voted down the Amendment by voice vote.

Embarrassed Party Leaders ignored the voice vote and declared the Amendment passed.
The new Democrats are in clear violation of the U.S. Constitution by applying a "religious test" when it comes to the appointment of pro-life Catholic nominations for those who are willing to serve their country.

If the Democrats could have their way, they would rewrite the U.S. Constitution to now include: Catholics need not apply!

The fact is, Article VI of the U.S. Constitution prohibits the government from considering a person's faith when assessing fitness to hold federal office. This clause is part of the original Constitution and has been a bedrock principle since the founding of the Republic.