June 29, 2018
FedUp PAC Staff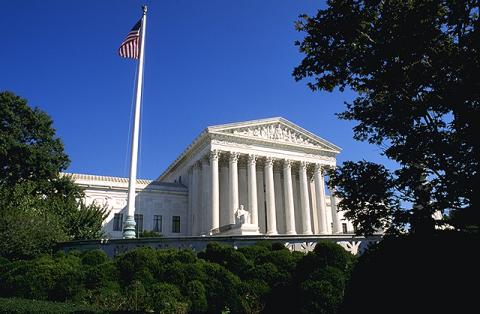 The retirement of Supreme Court Justice Anthony Kennedy has raised the stakes of the 2018 elections.
Democrats are determined to do everything possible to block President Trump's appointment of a replacement for Justice Anthony Kennedy, and hope to get an unbreakable stranglehold on future Supreme Court appointments by winning control of the Senate in November.
Allowing President Trump to replace Kennedy, and perhaps also to replace Ruth Bader Ginsburg later in his term, would lock in a pro-Constitution majority that would block many of the radical plans that Bernie Sanders and his Democrats hope to enact when they regain power.
Democrats, however, look forward to a court that might strike down restrictive immigration laws, order the release of criminals from prison so as to end "mass incarceration", find a constitutional guarantee of a taxpayer-funded income for all Americans, gut the Second Amendment, and allow Congress a free hand to demolish the First Amendment freedoms of speech and religion.
The Democrats' first task is to prevent the approval of a nominee this year, when the GOP holds a tenuous 50-49 majority (Sen. John McCain is not present because of illness, and is not likely to ever return to Washington.).  If Democrats can hold their 49 senators in line, they need only win over one anti-Trump Republican.  Washington is already abuzz with speculation that Susan Collins (ME), Lisa Murkowski (AK), Jeff Flake (AZ), or Robert Corker (TN) might be persuaded to join with the Democrats.
However, this year's elections also put many Democrats on the hot seat.  Ten Democrats are running for reelection in states that voted for Trump.  Three of those (Donnelly of Indiana, Heitkamp of North Dakota, and Manchin of West Virginia) voted to confirm Neil Gorsuch in order to protect their popularity at home, and would surely run the risk of losing what are already hotly-contested races if they cast a high-profile liberal vote against the next nominee.  Others who voted against Gorsuch may also be hurt politically by a second vote confirming that they favor a left-wing, anti-Constitution Supreme Court.
It is absolutely vital that Republican and Democratic senators feel the heat from their voters during this campaign.  The margin for this nomination could easily be 50-49 or 51-48.
And it is essential that Republicans enlarge their Senate majority, rather than losing it.
There are at least seven Democratic senators who might be beaten in November, and other races which could turn out to be competitive.  A larger GOP majority means that a handful of anti-Trump Republicans would no longer have the ability to give Democrats control over what passes the Senate. 
But if Democrats win a majority, there will be no more Supreme Court appointments by Trump.  No matter how many vacancies might occur during the rest of his term, all nominees would be defeated unless Trump allowed Senate Democrats to dictate his choices.  (It's likely they would follow the same obstructionist course for the Appeals Courts, protecting the liberal majorities created by Obama's appointments.)    
This year's senate elections may well determine whether we have a Supreme Court that wants to Make America Great Again by following the Constitution, or a court determined to make America socialist.
That is why FedUp is determined to give President Trump a Senate majority that will empower him for the remaining two years of his first term.
FedUp PAC wants to make sure that voters, especially key swing voters, know how what it means for the Supreme Court if Democrats are back in control of the Senate next year – not to mention feeling free to vote against his nominee this year.
Just two years ago FedUp PAC set out to warn voters what the election of Hillary Clinton would mean to them.  We targeted states such as Florida, Pennsylvania, Michigan, North Carolina, and Wisconsin.  That effort helped swing them into line for Donald Trump while also helping elect senators in Pennsylvania, North Carolina and Wisconsin.
We can do it again in 2018.  We can be sure voters know why they must keep Republicans in control of the Senate.
But to win, FedUp PAC must have your help.  We know how to use the latest technology to target the voters who will swing the elections.
This program of voter contact by email, FaceBook, etc. is relatively cheap, and highly cost-effective (especially compared to TV spots), but it is not free.
That is why your donation of $25, $100, $500 or more to FedUp PAC is needed today – because with polls showing what could be an across-the-board Democratic triumph, even in deep-red states, there is not a day to waste.
FedUp PAC is already planning what needs to be done to protect and expand Trump's majorities.  Those plans can move forward as soon as we have the funds to proceed.
With your help, we can make 2018 a year that moves us further toward Making American Great Again.  Without it, FedUp PAC will be sitting on the sidelines, unable to help.
So please, send your best donation of $25, $100, $500 or whatever you can afford.