November 15, 2018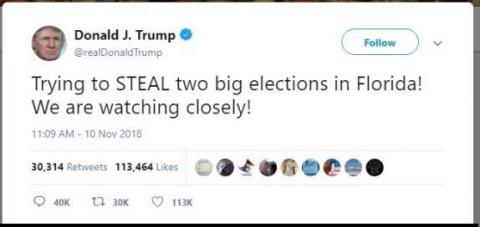 The Florida Department of State last week asked federal prosecutors to investigate dates that were changed on official state election documents, the first voting "irregularities" it has flagged in the wake of the 2018 elections.
The concerns, which the department says can be tied to the Florida Democratic Party, center around date changes on forms used to fix vote-by-mail ballots sent with incorrect or missing information. Known as "cure affidavits," those documents used to fix mail ballots were due no later than 5 p.m. on Nov. 5 — the day before the election. But affidavits released on Tuesday by the DOS show that documents from four different counties said the ballots could be returned by 5 p.m. on Thursday, which is not accurate.
To read the full article, follow the link below.
https://www.politico.com/states/florida/story/2018/11/14/federal-prosecu...