October 31, 2018
Richard A. Viguerie, Chairman, FedUp PAC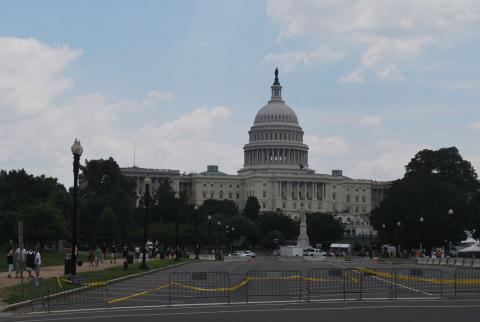 The radicalized Democrats have made their intentions crystal clear.  They will never forgive President Trump for winning the 2016 election, and if they win control of the House of Representatives next week, they will hound him and everyone associated with him around the clock for the next two years.  It will be a civil war without end.
 The only way to stop this insanity is to deny them victory in the midterm election.  See "What You Can Do" at the end of this article.
 Here is what will happen in just two of the most powerful House committees if the Democrats win.  Don't let that happen!
 House Judiciary Committee
 Rep. Jerrold Nadler, the New York Democrat who would be chairman of the Judiciary Committee, has a 93% liberal voting record as recorded by the American Conservative Union (ACU).  He says his committee will launch new investigations into Justice Brett Kavanaugh if Democrats take control of the House. 
 The investigations will delve into Democrat accusations of sexual misconduct and perjury on the part of Justice Kavanaugh.   He says the FBI investigation ordered by Senate Republicans at the confirmation hearings was a "whitewash."
 As The New York Times noted, "Mr. Nadler could soon have subpoena power and a chairman's gavel, backed by a Democratic majority in the House."
 And Nadler makes no secret of his contempt for the President: "I think Trump is a disaster.  I am going to oppose him for all kinds of reasons for the things he wants to do."
 Nadler says his committee would immediately subpoena records from the White House and the FBI, including communications between officials at both places.  FBI Director Christopher A. Wray would be called to testify, as well as Justice Kavanaugh's accusers and dozens of other potential witnesses.  He concedes it would probably be difficult to force Justice Kavanaugh to testify, since he is now a member of the Supreme Court.
 (For her part, Dr. Christine Blasey Ford—Kavanaugh's initial accuser—says she doesn't support impeachment and indicates she doesn't want to participate in actions toward that end.  
 House Intelligence Committee
Rep. Adam B. Schiff, of California, would be chairman of the House Intelligence Committee.  He has a 100% liberal voting record as recorded by the American Conservative Union. 
 In an op-ed ("How a Democratic House would check this erratic president") for the Democrat rag, The Washington Post, he indicated the Committee would cover up any investigation into the lies given by Special Counsel Mueller's team and Democrat operatives to the FISA courts regarding alleged Trump Administration collusion with Russia (allegations still unproven after more than 17 months of investigation) and actual on-the-record collusion with Russia by former President Obama, former President Bill Clinton, and Mrs. Clinton.  In fact, Democrats would expand the Russia-Trump investigation into "allegations the Russians may possess financial leverage over the president, including perhaps the laundering of Russian money through his businesses." 
 (If any Democrat has an allegation to make, take a number and wait outside Schiff's office.  It is likely to be a very long line.  Schiff and the other Democrats on the Intelligence Committee have released a "partial list of more than 70 people, organizations, and companies they claim Republicans refused to fully pursue as part of Russian investigations, and that they would intend to subpoena.)
 Schiff also says the House Oversight and Government Reform Committee, under a Democrat majority, would issue subpoenas regarding EPA Administrator Scott Pruitt's "reign of corruption," of "children [being] ripped from their parents at the southern border" (during the Trump administration, of course, not the Obama administration, which separated many more families), of why "thousands died from neglect in Puerto Rico" after the hurricane, and on and on.  Indeed, there are so many things about the Trump administration to investigate, Democrats "will need to ruthlessly prioritize the most important matters first."
 Schiff then speaks for his comrades who would chair other committees.  "In the Oversight Committee, ranking Democrat Elijah E. Cummings [ACU lifetime voting record: 96% liberal] has said he wants to scrutinize…corruption issues, including whether Trump is profiting off the presidency. On the Judiciary Committee, ranking Democrat Jerrold Nadler (N.Y.) is demanding oversight of potential abuse of the pardon power, attacks on the rule of law, and campaign finance violations. And Democrats on the Veterans' Affairs Committee want to make sure veterans are getting the best care and that decisions are being made by the professionals, not Trump's unelected cronies."  (We know how that worked for veterans under the Obama administration's unelected cronies.)
 The message is crystal clear:  If the Trump-hating Democrats win the House, we will have two years of around-the-clock investigations that will halt congressional work on real issues.  As Nancy Pelosi noted this month at a CNN affair, the subpoena power is "a great arrow to have in your quiver."
 For the full story of what it would mean to have Democrats chairing all the House committees, see our FedUp article, The Democrats Plan to Kill the Conservative Agenda by Putting These Leftists in Charge of the House Committees.
 What You Must Do to Defeat the Democrats and
Keep Them from Controlling the House Committees
 In this last week of the campaign, it is more important than ever to let voters know that the Democrats have been radicalized and are now a dangerous, violent, and radical socialist party.  If they win the House, America will face two years of unending civil war, with 24/7 witch hunts of President Trump and anyone associated with him.
 The American people want the Democrats' violence and intimidation to stop.  Congress has serious business to conduct without the distraction of incessant witch hunts.  It is up to you to let voters know that a vote for any Democrat is a vote for Nancy Pelosi as Majority Leader of the House and for radical, far-left committee chairmen like Nadler and Schiff.
Email this article with your comments to your family and friends, the members of your church and civic organizations.
Next, post on Facebook, Twitter, YouTube, and other social media, comments sections of articles and websites, and on your blog if you have one.
Call in to the radio and TV shows you follow. 
Make copies of this article and others at FedUpPAC.org and distribute them far and wide.
And of course vote and make sure all of your family and friends that share your views also vote.  If necessary drive them to the polls.
  ·         AND DO THIS CONSTANTLY UNTIL ELECTION DAY.