November 06, 2015
George Rasley, CHQ Editor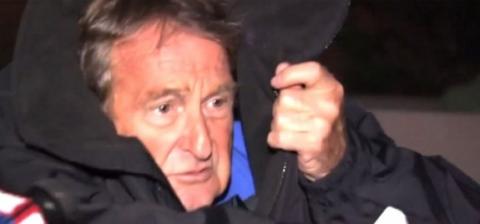 October has become a month-long horror show as the establishment media indulges in an orgy of Hollywood generated blood, monsters, demons and evil spirits. The movies and made-for-TV horrorfest range from the campy 1950s "Bride of Frankenstein" to the truly disgusting "American Psycho." 
But the one horror we didn't see on TV this past October was the vile – and true – tale of Michigan abortionist Dr. Michael Roth, and the "14 containers of human tissue, possibly fetuses, medical Michael Rothequipment and large amounts of Fentanyl," police found in his car after a traffic accident.
Our friends at the Media Research Center's Newsbusters report that West Bloomfield Deputy Chief Curt Lawson spoke with Detroit Free Press about the containers' contents. "We do have an opinion from the medical examiner's office that this is remnants of conception, but there was nothing that was seen within the containers that were recognizable," Lawson said.   
Afterwards, police obtained search warrants and raided both Roth's house and office. Roth has not been charged, but he is under investigation – by local, state and federal officials. "The working theory," Detroit's WXYZ TV later reported, "is he may have been performing abortions outside of a clinical setting." 
Local stations first broke the news Oct. 13 that police discovered 14 containers of "human tissue" in the Michigan abortionist's car. The horror story eerily echoed reports from the case of Philadelphia abortionist Kermit Gosnell – and, like Gosnell, it didn't tempt coverage from the broadcast networks. All three, ABC, NBC and CBS, turned a blind eye to the news. 
Here are some of the true horrors the establishment media censored while filling the air waves with Freddy Kruger. 
On December 25, 1988 Dr. Roth told The New York Times he saw no reason to object to sex selection abortions. He said he will do prenatal diagnosis or refer patients elsewhere for it, and then do abortions if the women request them. ''I have no ethical problems with it, absolutely not,'' he said. ''I think that abortion should be available on demand.'' 
According to Fox 2 Detroit's Dave Spencer, "The attorney general's office have previously investigated Roth. In 2004, he was put on probation and fined. He was found negligent and incompetent and in one stipulation of his probation is that he wasn't allowed to perform abortions outside of a clinical setting. That is one of the allegations of the current case." 
Our friends at legalinsurrection.com have even more information on "Doctor" Roth's record.  
According to reporting by Kemberlee Kaye, "Roth has a checkered history of Board discipline and malpractice suits related to botched abortion procedures. Some of the injuries he inflicted during abortions include perforated uteri and bowels, hemorrhage, and at least one abortion he did not finish because the abortion facility ran out of dilators of the size he needed to complete the procedure. One woman required a hysterectomy to save her life. Documents related to these incidents can be read at www.AbortionDocs.org ." 
The UK's Daily Mail has even more on the "Doctor" Roth horror show. 
Legal documents seen by the Daily Mail Online reveal that while Roth and his wife were divorcing, she lived in a locked basement in the home they shared because she was scared of him. 
She obtained a temporary protection order from a court for six months and asked for it to be extended up until their divorce to stop him "from assaulting, attacking, molesting, wounding, following, confronting and otherwise injuring" her according to reporting by Ollie Gillman. 
We know horror sells; AMC's zombie hour, "The Walking Dead," is TV's most-watched drama, but when it comes to the truth about the serial killing of America's abortion culture, well the networks get a little squeamish it seems. 
The one proven way conservatives have to bypass the liberal media filter is to use social media. We urge you to join us in tweeting about the real horrors of Dr. Michael Roth and his abortion practice using the hashtag #AbortionHorrors. We urge you to start by tweeting a link to this article to your local television and newspaper reporters demanding that they cover this developing story. 
To join the #AbortionHorrors Twitter campaign and for more information, including sample tweets, go the MRC's Facebook page.