October 13, 2016
FedUp PAC Staff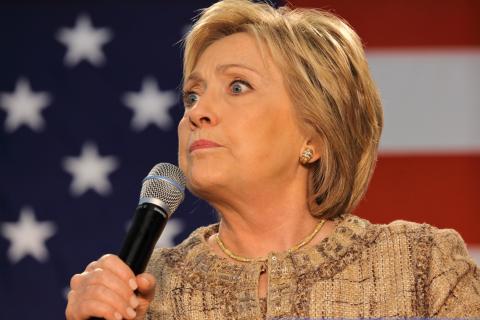 What kind of president would Hillary Clinton be?

Her own words tell us.

She has declared her slavish devotion to political correctness, saying that "deep seated cultural codes, religious beliefs and structural biases have to be changed." That was her declaration of war on Christians, her promise to use the law to attack Christian beliefs on abortion, homosexuality, and "transgender rights."

She has accused America's police of "systemic racism" and threatened that Federal funding for local police will be determined by whether they "reform" themselves according to her standards.

She has insisted that, even as our nation and the world suffer from terrorist attacks, anyone who speaks critically of radical Islamist should be "shamed" into silence. This is a natural position for someone who wants to increase refugee immigration from Syria by 550% even though the FBI admits it is unable to screen out terrorists (like those already known to have infiltrated Europe in the guise of refugees).

She has pledged to push for a tax increase of more than $1 trillion and to increase regulation, especially regulation intended to crush America's energy industry.

She has made all these promises -- but many Americans have no idea that this is where Hillary Clinton wants to take us.

That is why voters must be informed and persuaded.

You can do your part to expose her radical agenda by clicking here to join My Own Super PAC and send hard-hitting postcards to independent voters in the five most critical battleground states. Every dollar you send to My Own Super PAC will get the message to two independent voters.

The news media will do everything they possibly can to protect Hillary. They don't want Americans to know about her radical-left agenda.

They see her victory as a chance to finish the transformation of America that was begun by Obama – a transformation from the nation established by the Founding Fathers into another second-rate European welfare state.

That's why My Own Super PAC must contact as many independent voters as possible in the five key swing states – Ohio, Pennsylvania, Florida, Nevada and New Hampshire. Every dollar you send to My Own Super PAC will put important facts about Hillary Clinton's radical agenda in front of the independent voters who will decide whether Clinton makes it to the White House.

Voters need to know that Clinton's own words confirm her plan to criminalize Christianity and censor criticism of Islam.

Voters need to know that Clinton supports a 550% increase in Syrian refugees in the United States.

Voters need to know about her plans for massive increases in taxes and spending.

The truth can beat Hillary Clinton. If you become a part of My Own Super PAC – an investor, so to speak – we can get the truth about Hillary into the hands of the small number of voters who will choose the winner of this election.

I know this will work because I was one of the pioneers in using political mail. My work helped bring about the election of Ronald Reagan and many other conservatives, and it can defeat Hillary Clinton.

All I need is your help, by taking part in My Own Super PAC. Your donation of $20 will let My Own Super PAC reach 40 independent voters in a key battleground state. $50 will tell the dangerous truth about Hillary to 100 voters. $1,000 will reach 2,000 voters.

And there is no limit to how much you can give to My Own Super PAC. If you want to give $10,000 and reach 20,000 voters, you can do it right now.

You can even make a corporate donation.

What's important is to act quickly. Voting has already begun in some states, with more about to open their doors to "early voting" and "no excuses absentee" voting. We don't have a day to spare.

Please click here to make your donation to My Own Super PAC today. Let's hit Hillary Clinton with the one weapon she can't overcome – the truth about her left-wing plan for America.

Sincerely,



Richard A. Viguerie
Chairman, FedUp Political Action Committee
Founder of "My Own Super PAC"

P.S. We can beat Hillary Clinton if independent voters in key battleground states know what she plans to do to America. That's why My Own Super PAC needs your support today. Every dollar you send allows My Own Super PAC to reach two independent voters.