October 27, 2017
FedUp PAC Staff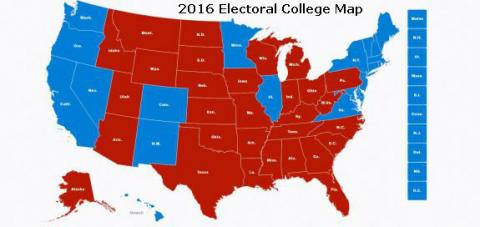 The establishments of both parties fear that the media narrative of "Trump-is-on-the-ropes" is about to be spectacularly contradicted by the election of a Republican governor in Virginia. 
Such a political upset would be impossible to ignore or hide, and would destroy the anti-Trump momentum produced by the attacks of Senators Jeff Flake and Robert Corker.  The election of a Trump-endorsed governor would help remind voters that both Flake and Corker announced retirement only after their anti-Trump statements had left them in danger of losing their primaries to pro-Trump candidates next year.
Democrats in Virginia should have everything going for them.  Republicans have not won a statewide election since 2009.  Clinton won the Commonwealth comfortably last year, and polling claims that Trump's approval ratings are low.  The Democrats have a funding advantage of $8 million dollars, with Democratic Lt. Governor Ralph Northam receiving more than $900,000 from Planned Parenthood VA and the Planned Parenthood Action Fund, more than $2 million from labor unions, half a million from gun control organizations, and more than $2 million from environmentalists.
Northam had enjoyed a good lead over Republican Ed Gillespie since both were nominated in June – until recently.   Now polls show the race tightening, and two recent polls showed Gillespie pulling ahead.
Democrats are close to panic, remembering that in 2013 and 2014 big Democratic polling leads shrank to almost nothing on election day.  They have brought in both Obama and Biden for a final campaign push.
For Democrats, it would be a defeat even more demoralizing than that of Jon Ossoff, who was expected to win the special election for a Republican House district in Georgia earlier this year.  Even though Democrats spent a record amount for a House seat and had favorable poll numbers, Ossoff lost by six points.  That setback left many Democrats wondering whether there was any way they could recover from their poor 2016 showing, and intensified the split between liberal and radical Democrats over whether to move to the center or to the left.
Democrats have good reason to be worried.  Republican Ed Gillespie seems to have learned his lesson from a primary in which he only narrowly defeated Corey Stewart, who had been Trump's campaign chairman in Virginia and ran a Trump-style campaign.
Since the primary, Gillespie has earned the anger of the establishment with his criticism of sanctuary cities and gangs such as MS-13.  He spoke out against tearing down statues that memorialize the Confederate soldiers who defended Virginia (one of Stewart's prime issues), and refused to go along with the gun control measures pushed by Northam and other Democrats.
While Flake and Corker chose to distance themselves from Trump and his voters, Gillespie has reached out to Trump voters. 
A Gillespie victory on November 7 would be a clear repudiation of the Flake-Corker approach.  It would prove that Republicans who want to win will work with the President, not against him.
FedUp PAC supports Gillespie, and will be choosing candidates in the Arizona and Tennessee primaries once the field of candidates is known.
Now FedUP PAC needs your donation of $25, $50, $100 or more to keep FedUp fighting for you against the Republican establishment.
You can help FedUP PAC support Ed Gillespie and conservative challengers to establishment senators in the 2018 primaries.  Our highly-targeted voter contact projects are efficient and relatively inexpensive, but there are costs.
Your donation of $25, $50, $100 or more could help make the difference.  There is still time to turn the tide and give President Trump a Senate that will pass his agenda.
That's why your best donation, whether $25, $50, or more, will make a difference now and in 2018.  Please support FedUp PAC today.