October 21, 2015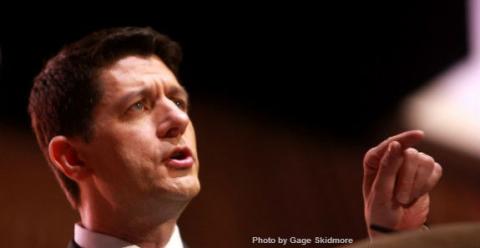 By George Rasley, Editor, ConservativeHQ.com
In a bizarre act of arrogance unprecedented in American political history, establishment Republican Paul Ryan has spelled out the terms under which he will accept the third highest office in our constitutional republic and they amount to nothing less than the destruction of democratic government in America.  
What Ryan announced to the House Republican Conference last night was a set of conditions under which he would accept the Speaker's gavel that amount to discarding any pretense that the House of Representatives is "the Peoples' House," as in We the People, to make it simply "Paul's House." 
According to multiple media reports Ryan told a private evening meeting of House Republicans that he would be willing to step into the speaker's role, ending weeks of GOP leadership turmoil, as long as conservatives immediately abandoned their demands for conservative reforms that would lead to an end to government by a small cabal of "leadership" members and staff and unconditionally committed to support him and his agenda. (You can see a short video about what's really at stake in Ryan's agenda through this link)
Ryan said of his willingness to stand for Speaker, "I hope it doesn't sound conditional — but it is," he said, according to members inside the room. He paused after saying the word "conditional," Members present have said, for effect. 
In remarks reported by The Washington Post's Mike DeBonis and Robert Costa, Ryan laid out his vision for moving the House GOP "from being an opposition party to being a proposition party" and set terms under which he would assume the speaker's post.  
"This is not a job I've ever wanted, I've ever sought," he said. "I came to the conclusion that this is a very dire moment, not just for Congress, not just for the Republican Party, but for our country." 
"If Paul Ryan can't unite us, no one can. Who else is out there?" said Rep. Peter T. King (NY-2), one of the most liberal House Republicans. "That'd be a sign of utter dysfunction, total madness." 
That establishment Republicans would apparently give unconditional support to the idea of one person setting the agenda for the House of Representatives shows just how desperate the existing cabal of insiders is to hold on to their corner offices, and how far from this country's founding principles their quest for power has taken them. 
According to DeBonis and Costa, before entering the evening meeting, Ryan met privately with leaders of the House Freedom Caucus, the reform-minded conservatives that helped push Speaker John A. Boehner out of his post and derailed Majority Leader Kevin McCarthy's bid to move up the ladder to succeed him. 
That meeting ended without a commitment to Ryan from the Freedom Caucus, according to our friends who were present, and at the subsequent GOP conference meeting, Ryan made clear conservatives would have to abandon their demands for reform by week's end for him to allow himself to be elevated to be two heartbeats from the Oval Office. The Freedom Caucus was explicitly mentioned, members said, as well as the conservative Republican Study Committee and the moderate Tuesday Group. 
What are these "demands" that conservatives pressed so vigorously that they drove John Boehner from the Speaker's office and stymied Kevin McCarthy's bid to succeed his mentor? 
Among the most important are:
A return to "regular order," that would end government by crisis where massive bills are taken up at the last minute under rules that do not allow amendments and limit debate. 
A return to a bottom-up legislative process where any member, not just those selected by leadership, can have a bill heard and bills are openly heard and debated in committee first, as opposed to the system adopted by John Boehner of writing all important bills in the Rules Committee in the middle of the night before the vote. 
The strict application of Republican principles to the House Republican agenda, focusing it on less government, lower taxes, more individual responsibilities, greater liberties and empowering traditional families. 
Finally, and perhaps most importantly, an end to the behind the scenes machinations with the White House and Democrats to advance policies opposed by the grassroots constitutional conservative base of the Republican Party, such as amnesty for illegal aliens, more foreign work visas in the face of record American unemployment, continued funding for Obamacare, executive amnesty, and Planned Parenthood and other far-Left organizations, and more deficit spending, even as tax collections are at a record high, to name but a few of the polices conservatives oppose, but Paul Ryan demands unconditional support for. (You can see a short video about what's really at stake in Ryan's agenda through this link)
Democracy and representative government are by their nature messy – and when politicians, like Paul Ryan and Peter King, demand order and an end to dissention what they are really demanding is an end to democratic government. 
And that's what Paul Ryan has demanded of his Republican colleagues before he will deign to accept the third highest office in the land. 
The only thing that stands between this anti-democratic one man rule in the House of Representatives and what remains of constitutional government in America is a group of 40 to 50 conservatives in the House – the now aptly named House Freedom Caucus. 
We urge you to call your Representative IMMEDIATELY – the House switchboard is 1-866-220-0044 – tell your Representative you oppose Paul Ryan and his demand for undemocratic anti-conservative one man rule in the House of Representatives. Your constitutional government hangs in the balance, make that call now. You can find a list of key targets for your calls through this link to the Tea Party Patriots website.