November 09, 2017
Richard A. Viguerie, Chairman, FedUp PAC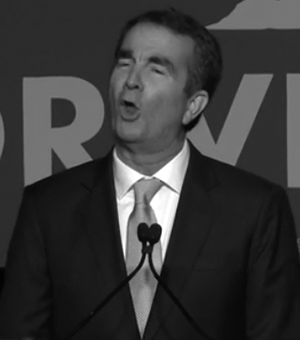 Virginia Republican candidate for governor Ed Gillespie last night made it official. . . 

. . .Gillespie conceded defeat, making liberal Democrat Ralph Northam the state's next governor. 

First of all, despite the outcome, I want to thank you for your continued support which has allowed FedUp PAC get involved in the Virginia campaign for governor. 

FedUp PAC did the right thing by putting our resources into Virginia in the closing days of the campaign to motivate the state's Catholic voters to turn out yesterday and support GOP candidate Ed Gillespie. 

Unfortunately, the Northam campaign hit below the belt by conspiring with the Latino Victory Fund - a political arm of the open-borders, pro-sanctuary cities lobby - to broadcast a despicable TV ad. 

Maybe you heard about this ad. It showed a Confederate-flag- flying pickup truck with an Ed Gillespie bumper sticker chasing down Hispanic and Muslim children. The Latino Victory Fund wanted to portray Gillespie supporters as violent racists in an effort to increase Hispanic voter turnout. 

No one can say if this dirty trick accomplished what the Northam campaign intended. 

When I sent you by e-mail the details of the FedUp PAC campaign plan for Virginia, the Latino Victory Fund ad was just going on the air. It was too late for us to adjust or change our message that a Ralph Northam victory would provide the Left and liberal Democrats with vital - and possibly unstoppable - momentum in what The Washington Post has called the "Impeachment Election." 

You received in that e-mail a reminder of the importance of Catholic "swing" voters and of FedUp PAC's role in helping candidate Donald Trump on Election Day 2016 make an 11-point swing in Catholic voter support over what Mitt Romney got in losing to Barack Obama in 2012. 

And I asked you to help FedUp PAC put to work in Virginia the same approach that helped make possible the shift of Catholic voters to President Trump in key battle ground states like Pennsylvania, Ohio, Michigan and Wisconsin. 

It was a strategy that involved reaching tens of thousands of Virginia Catholic voters three days before the election with an e-mail exposing the anti-religious liberty and anti-Catholic bigotry of the modern- day Democrat Party. 

The FedUp PAC message pointed out for Virginia Catholic voters the connection between anti- Catholic bigots (like abortion "rights" radical Hillary Clinton) and Ralph Northam. 

What's more, we used the Internet to broadcast ads with examples of this bigotry to reach an innumerable amount of Virginia Catholics. 

Without exit polling information, I don't know yet know how much of a surge in Catholic support for Ed Gillespie that FedUp PAC was able to produce. Sadly though, it still wasn't enough. 

The disgraceful Latino Victory Fund ad broadcast statewide in collusion with the Northam campaign may have motivated enough Hispanic voter turnout to cancel out the number of Catholics we persuaded to go to the polls and vote for Ed Gillespie. 

One thing is for certain, though: In the aftermath, the reality of Ralph Northam's victory is only now taking hold. 

After all, there's a reason The Washington Post has called 2018 the "Impeachment Election" year. A Democrat takeover of at least the House of Representatives would likely lead immediately to impeachment hearings against President Trump. 

The liberals that dominate the Democrat caucus in the House make no secret of their plan to, as extremist Left-wing Congressman Luis Gutierrez pledged a few months ago, "eliminate" the President by way of impeachment. 

With a Northam victory yesterday, the Left is reenergized not only to go full speed ahead against the Republicans they are targeting for defeat next November, but also to block in Congress everything President Trump is trying to do. 

I assure you, however, that FedUp PAC is not about to throw in the towel. 

Yes, yesterday, the Left and liberal Democrats won an important scuffle. But the biggest fight is still ahead in 435 House races and 33 U.S. Senate races on the November 2018 ballot that will determine, among other things, if the Left will pick up the necessary numbers to win back control of the House of Representatives. 

I hope to have your continued support as FedUp PAC fights to bounce back from a tough defeat yesterday. We aim to pick our spots carefully and where we can have the greatest impact over the coming months. 

With the survival of the Trump Presidency on the line, FedUp PAC can do no less. I am counting on you to keep faith with this vital mission. 

Sincerely, 


Richard A. Viguerie
Chairman
FedUp Political Action Committee 

P.S. I will be in touch soon with our plan to help take out ten liberal Democrat U.S. Senators running for reelection in states President Trump carried last year. Several are the battle ground states where FedUp PAC made such an impact with Catholic voters. When the time comes to reveal the FedUp PAC plan, I promise you will be among the first to know. 

P.P.S. FedUp PAC is working for you, fighting to put constitutional conservatives in control of the Republican Party. Your financial support will help FedUp PAC continue and expand its efforts against the corrupt Washington establishment. Please consider contributing today by GOING HERE.