December 15, 2017
FedUp PAC Staff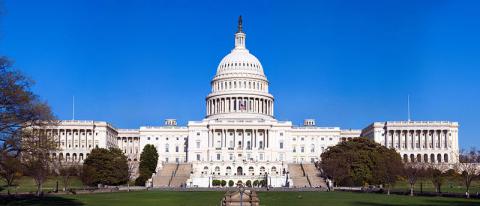 After picking up a Senate seat, which leaves them only one short of a tie, Democrats are hoping to find Republican defectors to help them kill every item on President Trump's agenda next year.  They have even demanded that Republicans delay voting on the tax bill until their new Democrat can be sworn in and perhaps help defeat that too.
The 2018 Senate races were already at the top of FedUp PAC's agenda before the loss in Alabama, but they are now even more vital if President Trump is to have any chance to carry out the populist-conservative policies he promised to his voters. 
If Democrats win the Senate next year (and perhaps even if they achieve a tie), that will be the end of President Trump's agenda.  Even the so-called "moderate" Democrats representing states that voted for Trump have voted against repeal of ObamaCare and against the tax bill.  There are no Trump allies among the Democrats.
A Democratic majority would mean that Trump's conservative nominees to the Federal courts will never even make it out of committee.   
What Trump must have is an expanded Republican majority, but not just any Republican.  We already have too many Republican senators who are part of the Washington establishment and are determined to protect "business as usual" rather than "draining the swamp."  Trump needs Republican senators who will keep their campaign promises rather than helping Democrats vote down bill after bill.
FedUp PAC expect to give priority to two types of states next year.  There are Democratic senators in states that voted solidly for Trump, states that should be represented by a pro-Trump senator.  Sherrod Brown in Ohio, Joe Donnelly in Indiana, Heidi Heitkamp in in North Dakota, Joe Manchin in West Virginia, Jon Tester in Montana, and Claire McCaskill in Missouri currently appear to offer good chances for victory.  Furthermore, in Florida, which went narrowly for Trump, polls show incumbent Democrat Bill Nelson highly vulnerable to a challenge by pro-Trump governor Rick Scott.
In each of these states, success requires first nominating a Republican who is loyal to the Trump agenda, then beating the Democrat.  We need to make 2018 another great election like 2010 and 2014, adding enough Republican senators that the Senate can pass bills without having to rely on the likes of McCain, Collins and Murkowski.  
But it is not enough to replace Democrats.  We need to replace the anti-Trump senators who killed the repeal of ObamaCare and nearly sank tax reform.  There are two states where FedUp has a perfect opportunity to improve on a Republican incumbent.  Senators Jeff Flake of Arizona and Robert Corker of Tennessee, the two most openly hostile GOP senators, are both retiring.  That makes it much easier to elect a constitutional conservative in their place next year.
It may also be possible to defeat some of the anti-Trump incumbent senators if strong candidates emerge.  FedUp PAC will be closely watching for opportunities.
It is absolutely vital to elect a Senate that will finally have a majority Trump can count on.  FedUp PAC wants to play a major role in 2018, and we are counting on your help.
The carefully targeted voter contact done by FedUp PAC is much cheaper than traditional political advertising, but it still has its costs.  We can only do as much as we can pay for.
Your donation of $25, $50, $100 or more allows us to fight back against the lies of the Trump haters.
That's why your best donation, whether $25, $50, or more, will make a difference now and in 2018.  Please support FedUp PAC today.
Remember, Democrats are counting on the Senate to be the graveyard for all legislation supported by President Trump.  After adding a new Senator from Alabama, they are now boasting about how they will take back the Senate majority in 2018.
They could be right.  Their advantages include the never-ending propaganda campaign of the mainstream media, unlimited funding, and all-out backing from the Washington establishment and Deep State.
FedUp PAC does not need to match them dollar for dollar, but we must be able to pay for our carefully targeted voter contact so as to swing close elections – just as we did last year.
So please, send FedUp PAC your best donation of $25, $50, $100 or more today.  Primaries will begin early in 2018, and we must be ready to help our candidates right away.