March 23, 2018
FedUp PAC Staff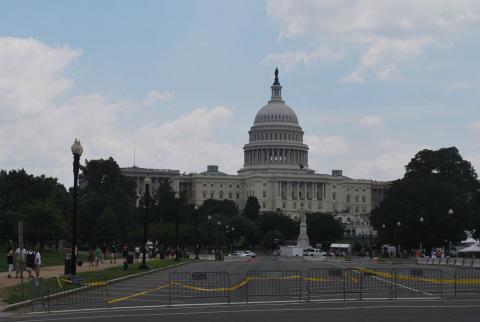 Will this year's election go down in history as the election that allowed Democrats to impeach President Trump?  Unfortunately, it is a real possibility.
Democrats in the House of Representatives have already forced two votes on the impeachment of President Trump.
An NBC poll shows that 70% of Democratic voters are demanding that Congress get the impeachment process underway by beginning committee hearings, and Public Policy Polling found an even higher 75% for impeachment.
Rep. Jared Huffman (D-CA) has proclaimed that Trump will be impeached after Democrats win the House in this year's elections, and maybe sooner if some RINO's can be persuaded to join with the Democrats.  Rep. Maxine Waters happily declared to the California Democratic Convention that they should "get ready for impeachment."
Liberal mega donor Tom Steyer has promised to spend tens of millions campaigning for impeachment and electing a House that will vote to impeach.  He speaks for many Democrats when he says impeachment is "morally and urgently necessary."
Progressive leaders such as Zephyr Teachout are predicting that Democratic voters will force their primary candidates to take a stand in favor of impeachment.
We can already see that Teachout is correct.  In Nevada, Democratic candidate Pat Spearman asserts "there is clear and compelling evidence" for impeachment charges.  Mary Barzee Flores, running in Florida, says "Yes, I will vote to impeach Donald Trump and restore honor, respect, and decency to the presidency."  Both Democrats running against Paul Ryan have endorsed impeachment.  Laura Moser, the darling of Texas liberals, made it into a primary runoff in Texas after coming out in favor of impeachment.
But on what grounds would they impeach Trump?  The Constitution says that the President may be impeached for "Treason, Bribery, or other high Crimes and Misdemeanors."  There are no serious charges of treason or bribery.  That leaves high crimes and misdemeanors, and Democrats are taking full advantage of the indefinite nature of that phrase.  Rep. Al Green, who introduced one of the House impeachment resolutions, has gone so far as to claim that Trump can be impeached for tweets and public statements that offend liberals.
Most Democrats in Congress are pinning their hopes on the investigation of Special Counsel Robert Mueller.  The Democratic leaders in the House have made clear that they want impeachment postponed until Mueller finishes his report, which they expect to contain devastating charges against the President.
But will Mueller provide the Democrats with a justification for impeachment?  Several liberal commentators have begun suggesting that relying on Mueller is a bad idea.  There is no reason to believe that he will accuse the president of any impeachable offense.  That may be why Sen. Bob Casey (D-PA) has called on Mueller to delay his report until after the 2018 elections.  Mueller's investigation may be a better campaign weapon for Democrats if its results are unknown, allowing wild speculation on the campaign trail.
Democrats want 2018 to be the election that puts them in control of the House of Representatives.  (That would put Nancy Pelosi, as Speaker of the House, next in the line of succession for the presidency if Trump and Pence were impeached and removed.)
Our job is to stop them.
It all comes down to turnout.
Democrats are counting on a huge voter turnout, motivated by the dream of impeaching Trump.  Their candidates will talk about it, and the news media will provide them with a 24-hour-a-day echo chamber.
Polls show that Democratic voters are ready to rush to the polls and cast what they see as a vote for the impeachment of Trump.  Election returns in 2017 and 2018 confirm the accuracy of those polls.
But that's only one part of the equation.  The same thing was true in 2016 – and Trump won.
Trump's victory happened because he also had an enthusiastic turnout.  That's the key to winning in November.
If populist and conservative voters go to the polls, we can offset the Democratic turnout, just as we did in 2016.
The only question is whether that will happen – or will populist and conservative voters stay home, as they have in some recent elections?
In Tuesday's Republican primary in Illinois, the turnout was much lower than 2014 and much lower than in the Democratic primary.  But two weeks earlier, in Texas, the primary turnout set a record and was 50% higher than Democratic turnout.
Will November's turnout look like Texas or Illinois?
FedUp PAC will be doing whatever we can to make the turnout look like Texas – and like 2016.
But we must have your help.
The narrowly-targeted voter contact used by FedUp PAC proved its value in 2016, helping to move swing states into Trump's column and also electing Republican senators where Democrats were expected to win.
This voter contact by email is relatively cheap, and highly cost-effective, but it is not free.
That is why your donation of $25, $50, $100 or more to FedUp PAC is needed today.
With your help, we can elect a Congress that will pass President Trump's agenda, not impeach      him.  Without it, we'll be sitting on the sidelines, unable to help.
So please, send your best donation of $25, $50, $100, or whatever you can afford.