January 05, 2018
FedUp PAC Staff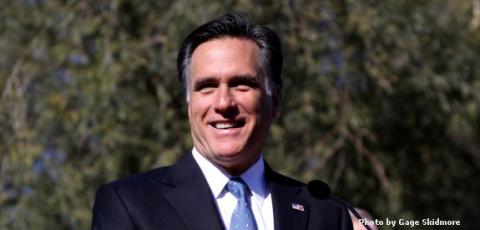 Mitt Romney is gearing up to run for the Senate, and the Washington establishment is thrilled.
Romney is expected to be just what they are looking for – a high-profile Republican senator who will lead bipartisan opposition to President Trump and the populist-conservative agenda that swept the elections of 2016.
With the coming retirements of Jeff Flake of Arizona and Bob Corker of Tennessee, the two senators most openly critical of Trump, the establishment desperately needs a new voice in the Senate.  Romney, the 2012 Republican nominee for president, fits the bill perfectly.  He is well-known, has a long record of opposing Trump, and has made clear his hostility to Trump's conservative agenda.  No wonder House Minority Leader Nancy Pelosi recently commented about Romney, "Wouldn't it be nice if he were president of the United States?"
Jennifer Rubin of The Washington Post is hoping Romney will organize Senate opposition to Trump, become a "dealmaker with the Democrats," and promote the investigation into alleged (but not yet found after a year and a half) "collusion" between the Trump campaign and Russia.
Another commentator has suggested that Romney would be just the man to get Republicans lined up to save ObamaCare.  That makes sense, considering that as Governor of Massachusetts he was responsible for joining with Democrats to enact RomneyCare, which had many similarities to ObamaCare.  Governor Romney also supported gun control, abortion, and amnesty for illegal aliens. 
Romney was ruthlessly critical of Trump during the 2016 election.  He suspended that criticism briefly while being considered for Secretary of State, but quickly resumed it once it became clear that there was no place for him in the administration.  For example, when the news media shamelessly misreported President Trump's comments criticizing the violence by both Nazi-KKK and left-wing antifa demonstrators in Charlottesville, trying to make it appear that Trump was sympathetic to the Nazis, Romney quickly put out a statement agreeing with the media and demanding that Trump apologize.
What can be done to stop Romney?  The best option is to find a conservative candidate who can beat him in the Republican primary and win election in November.  That will be difficult given Romney's popularity in Utah, but political upsets happen all the time.  It may be possible and FedUp PAC will be watching to see if a suitable candidate emerges.
However, even if Romney were to be elected, the damage could be minimized if Republicans increase their Senate majority next year.  There are ten Democrats running in states that voted for Trump in 2016, and many of them are considered vulnerable.  In fact, the political writers at The Washington Post say that eight of the nine most vulnerable Senate incumbents are Democrats.
If the current 51-49 Republican majority were increased to something like 55-45, Romney and the Democrats would have to peel off six Republican senators in order to overcome the majority (and that's without taking into account how Republican gains would affect the voting records of Democrats facing reelection in 2020).  ObamaCare would probably have been repealed last year if the GOP had only had that large a majority.
Without a larger majority in 2019, Romney will be in a position to join with Susan Collins (R-ME), John McCain (R-AZ) and perhaps a few other Republicans to block anything proposed by President Trump.
That is just not acceptable!  It's not why we elected President Trump and a Republican Congress.
FedUp PAC is ready to lead the fight to nominate and elect constitutional conservatives in 2018.  We demonstrated in 2016 the effectiveness of our carefully targeted voter contact programs.
What we need is the financial war chest to carry this out again in 2018.  There is no time to waste, with the first primaries coming up in just two months.
Your donation of $25, $50, $100 or more will help us get the right candidates nominated and elected in 2018.