March 29, 2018
FedUp PAC Staff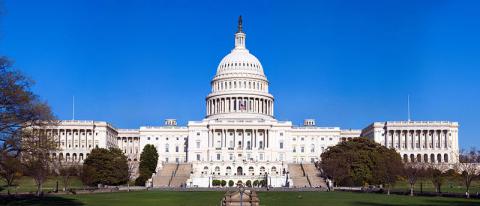 Even if Democrats achieve their fondest wishes and win a solid majority in this year's elections for the House of Representatives, a Republican Senate would stand as a bulwark against their plans to impeach President Trump.
That is why FedUp PAC will do as much as it can to increase the number of pro-Trump Republicans in the Senate this fall.
Pundits who predict that a "blue wave" will sweep the House into Democratic control admit that the Senate is a much more difficult nut to crack, and that Republicans could increase their numbers.  To gain a majority, Democrats would need to win every single one of 8-10 races that are now seriously competitive.  Eight of those races involve seats now held by Democrats, all in states that voted for Trump two years ago, and often by overwhelming margins.
If populist and conservative voters go to the polls, there should be more than the current 51 Republicans next year.  Furthermore, some of the GOP senators most hostile to Trump could be replaced by Republicans who will work for the Trump agenda.
It is especially important that new Republican senators be supporters of the platform that elected Trump in 2016, rather than establishment Republicans who will undermine the President.
Senators Jeff Flake and Robert Corker, beloved by the liberal media for their constant Trump-bashing, are both retiring and may well have pro-Trump replacements.  That is less certain in Arizona, where two pro-Trump candidates may split the primary vote and allow the establishment favorite, Rep. Martha McSally, to take Flake's seat.
In Mississippi, where the Republican primary should also determine the winner in November, conservative state senator Chris McDaniel is running for the seat vacated by Thad Cochran's resignation.  He will need to defeat the establishment choice, Cindy Hyde-Smith, who has been appointed to fill the seat until the election.  McDaniel almost beat Cochran in the 2014 primary, and should be a strong candidate even though the Washington swamp will again pull out all the stops against him.
The most vulnerable Democrats appear to be Sens. Joe Donnelly (Indiana), Claire McCaskill (Missouri), Heidi Heitkamp (North Dakota), and Joe Manchin (West Virginia).  Sen. Bill Nelson of Florida also faces a stiff challenge from Gov. Rick Scott, who was an early endorser of Trump in 2016.
Jon Tester of Montana, Tammy Baldwin of Wisconsin, and Sherrod Brown of Ohio seem likely to face serious contests.  There is even the possibility that other states, such as Minnesota and Pennsylvania, could become competitive.
These are great opportunities, but turning them into real victories on November 6 will require maximum effort.  We know that the Democrats, motivated by their hatred for President Trump, are working night and day for their candidates.  Democratic voter turnout in 2017 and 2018 has been unusually high, giving them an important advantage.
FedUp PAC must have the resources to identify and turn out voters who will give President Trump a Senate he can work with.  Gaining Senate seats will also blunt news stories about any Democratic gains in the House.
And a strong pro-Trump Senate means that Democratic attempts to remove the president by impeachment will be dead.
On the other hand, if Democrats manage to use their enthusiastic voter turnout to win a Senate majority, we can expect establishment Republicans to begin lining up for impeachment.
That is what is at stake on November 6.  Will President Trump have a Congress that helps him make America great again, or a Congress that drives him from office?
To win, FedUp PAC needs your help.
The narrowly-targeted voter contact used by FedUp PAC proved its value in 2016, helping to move swing states into Trump's column and also electing Republican senators where Democrats were expected to win.
This voter contact by email is relatively cheap, and highly cost-effective, but it is not free.
That is why your donation of $25, $50, $100 or more to FedUp PAC is needed today.
With your help, we can elect a Congress that will support President Trump's agenda, not impeach him.  Without it, we'll be sitting on the sidelines, unable to help.
So please, send your best donation of $25, $50, $100, or whatever you can afford.