November 03, 2017
FedUp PAC Staff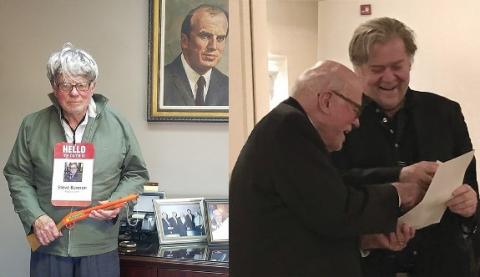 CHQ Chairman Richard A. Viguerie and executive chairman of Breitbart News Steven K. Bannon got together on Halloween at the Fortieth annual meeting of the Pumpkin Papers Irregulars – an annual dinner celebrating the life and legacy of Whittaker Chambers – and Washington's RINOs and Democrats were left quaking in their boots.
In his remarks to the group Bannon identified two existential threats to the United States and constitutional liberty; political Islam in an axis stretching from central Asia through Persia to the Mediterranean, and – especially important before President Trump's trip to Asia – Chinese mercantilism.
In his remarks Bannon emphasized the themes he injected into a flagging Trump campaign that rocketed Trump from being as much as 16 points behind Hillary Clinton in the early Fall to his 306 to 232 electoral vote demolition of Clinton on Tuesday, November 8, 2016.
To read the full article, follow the link below.
http://conservativehq.com/node/26767