October 20, 2017
FedUp PAC Staff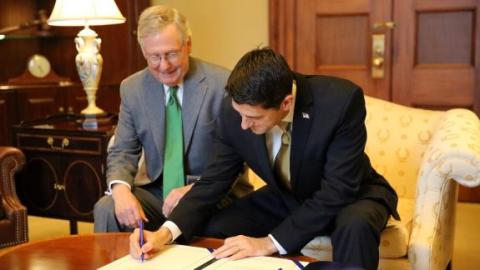 Conservatives have given up on Mitch McConnell and want his immediate resignation as Senate Majority Leader, according to a poll by FedUp PAC.
            Almost 99% agreed that "McConnell is too much a part of the establishment" and "must be replaced as quickly as possible."  Less than one percent want McConnell to continue as the Republican leader in the Senate.
            McConnell's toxic relationship with the Republican grass roots become obvious during the summer Senate primary campaign in Alabama, when challenger Judge Roy Moore made an issue of appointed incumbent Luther Strange's close ties to McConnell.  Moore beat Strange by a comfortable margin even though Strange, whose fundraising was greatly assisted by McConnell, outspent Moore by a wide margin.
            President Trump has been openly critical of McConnell for his inability to get bills through the Senate.  McConnell failed to get the repeal of ObamaCare through the Senate despite being given a wide variety of options.  Tax reform also appears to be in danger.  Judicial nominations have been stalled by the Democratic minority.
            Last week a group of conservative leaders, including FedUp PAC Chairman Richard Viguerie, called for McConnell to resign.  Viguerie accused the Majority Leader of "allowing Far Left Democrats to run the show on Capitol Hill" and revealed his doubts that McConnell even wants to see a populist-conservative agenda enacted.
            Conservatives have also begun warning that if McConnell's continued ineffective leadership gives the 115th Congress a "do-nothing" label, it could lead to major Democratic gains in the 2018 congressional elections.
            FedUp PAC is a grass roots organization that wants constitutional conservatives to take over the GOP because Americans are fed up with the Republican establishment.  It is not affiliated with any candidate or committee.