December 01, 2017
FedUp PAC Staff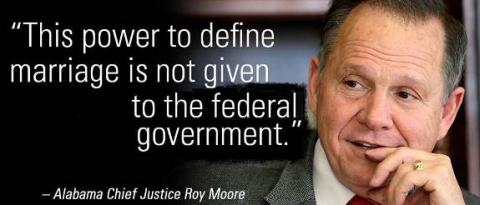 The left-wing media have done their worst, but they have failed to destroy Judge Roy Moore.  Recent polls show that the race is now too close to call and Moore can still win.
There is a great deal at stake in this Alabama Senate election.  President Trump's greatest legacy is likely to be restoring the judicial branch to constitutional faithfulness by appointing judges who will follow the text and original intent of the Constitution.
American liberals, who often find their crazy schemes rejected by Congress, depend on Federal judges to put their policies into place.  Take this away, and they will rarely be able to get their own way.
They also depend on judges to block the President's actions.  Hardly a week goes by without another story about a Federal judge issuing a restraining order to prevent President Trump from carrying out the mandate of the 2016 election.
Trump has already made a fine start at reforming the judiciary.  He not only appointed Neil Gorsuch to the Supreme Court, he also is filling the Federal appeals courts with constitutional conservatives.  Liberals, not surprisingly, are reacting with cries of alarm and warnings of catastrophe.
Unfortunately, the President cannot put these judges on the courts by himself.  He must have a Republican majority in the Senate.  A Democratic majority would either vote down Trump's nominees or, if there was the possibility that a few Democrats might join the Republicans, keep the nomination bottled up in committee without a vote.
Even reducing the present 52-48 Republican majority to 51-49 could be enough to empower the Democrats.  It might not be hard to persuade a couple of Trump-hating Republicans (such as Jeff Flake and Robert Corker) to jump ship and hand the President a series of embarrassing defeats.
The election of liberal Democrat Doug Jones in Alabama would be just what the Democrats need.  It would immediately make things much more difficult for the President and increase the Democrats' chances of winning Senate control in 2018.
Jones can be beaten.  He is being hurt by a TV interview in which he revealed his extreme views on abortion.  Asked on September 27 by Chuck Todd of MSNBC about his position, Jones said this.
"I'm not in favor of anything that is going to infringe on a woman's right and her freedom to choose."
No restrictions on abortion – not "anything" at all!
That's not going over well in Alabama, where many voters take seriously the protection of innocent human life.
FedUp PAC is already preparing a final advertising push in support of Roy Moore.  This is just the first step in our larger campaign to elect a Senate in 2018 that will support the populist-conservative agenda that elected Trump last year.
The FedUp PAC strategy is modeled on the one that was successful in helping Trump win key states in 2016.  Carefully targeting swing voters, and giving them the information that they need but cannot get from the media, can provide the votes that make the difference.
Now FedUP PAC needs your best donation of $25, $50, $100 or more to keep FedUp fighting for you in Alabama and across the nation.
You can help FedUP PAC support Roy Moore today and conservative challengers to establishment senators of both parties in 2018.  Our highly-targeted voter contact projects are efficient and relatively inexpensive, but there are costs.
Your donation of $25, $50, $100 or more could help make the difference.  We can send a message on December 12 with a big win in Alabma.
That's why your best donation, whether $25, $50, or more, will make a difference now and in 2018.  Please support FedUp PAC today.