August 03, 2017
FedUp PAC Staff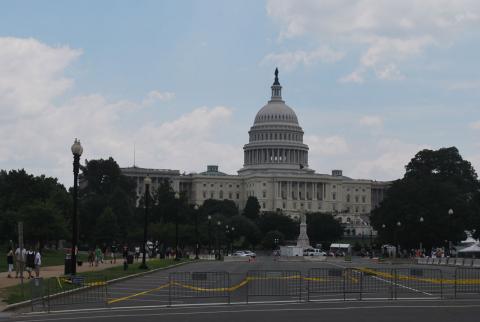 It was bad enough when some Congressional Republicans broke their promises and joined with the Democrats to block the repeal of ObamaCare.
Now some of them are willing to go even farther, joining with Democrats to "fix" ObamaCare at the expense of the taxpayer.  Sen. Lamar Alexander (R-TN) has announced that, as Chairman of the Senate Health Committee, he will work for a "bipartisan" bailout for the insurance companies to get them back in the ObamaCare exchanges.  ("Bipartisan", in this case, means a Democratic bill supported by a handful of Republicans.)  Some of the pro-ObamaCare House Republicans, including Charlie Dent of Pennsylvania and Tom Reed of New York, have praised Alexander for his willingness to work with Democrats and to do whatever is necessary to save ObamaCare from collapse.
But this bipartisanship does not stop with ObamaCare.
Democrats have begun talking confidently about playing a role in tax reform, the next big item in Trump's agenda.  They believe that Republicans will be no more successful in assembling a majority for a tax bill than they were for ObamaCare, and that some Republicans will be ready to work with the Democratic minority.  Given that congressional Republicans have still not reached agreement on what should be included in a tax bill, Democrats may well be correct.
What we may be seeing is the formation of an informal governing coalition, in which establishment Republicans join forces with the Democrats to form a congressional majority dedicated to stopping the Trump agenda in its tracks.
They have already done it to save ObamaCare.
They have already done it to launch one congressional investigation after another into Trump's alleged "crimes."
They have already done it to keep a border wall out of the recent government funding bill.
Now they may prevent any meaningful tax reform, stop Trump from making another Supreme Court appointment, block any significant action against illegal aliens, and protect the army of anti-Trump leakers in the government.
Is this what Americans were voting for in 2016?
Every Republican in the House and the Senate needs to hear from the voters, demanding that he refuse to take part in this anti-Trump coalition.  You can reach your own members of Congress through the Capitol switchboard at 202-224-3121.
Let them know you expect them to vote for Trump's conservative agenda, not for a continuation of the Obama years.
And please help FedUP PAC.  We need to keep the heat on Congress right now, and in 2018 replace the Republicans who betray us.  Please follow this link to make a donation of $25, $50, $100 or more to FedUp PAC.  With your support, we can change the course of history.