August 17, 2018
FedUp PAC Staff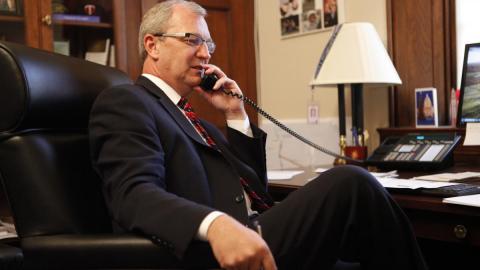 If President Trump is to enjoy a productive conclusion to his first term, he must have a GOP-controlled Senate with a large enough Republican majority that one or two Republican defections will no longer give Democrats a working majority in the Senate.  This is especially vital when it comes to the nomination of judges and executive branch appointees.  The difficulty in lining up a majority for Judge Brett Kavanaugh, caused by a few holdouts in the razor-thin GOP majority, demonstrates what a problem this can be.
A critical race in determining whether Republicans will expand their Senate majority is taking place in North Dakota, where Rep. Ken Cramer is taking on Sen. Heidi Heitkamp.  Although Heitkamp does her best to appear as a moderate, her voting record shows that she most often stands with the liberal Democrats in the Senate.
Sen. Heitkamp voted against Trump by opposing the tax cuts, opposing the repeal of ObamaCare, opposing building a wall along the Mexican border, and supporting the "bipartisan" immigration bill.  She refused to support four of Trump's cabinet appointments, and voted to keep the filibuster for Supreme Court nominees (which would have blocked the confirmation of Neil Gorsuch). 
She has also voted against Federal penalties for sanctuary cities, and admits that she opposes the deportation of most illegal aliens.
If any further proof is needed of Heitkamp's liberalism, it can be found in the fact that she is being supported by Hillary Clinton's super PAC. 
As a member of the House, Rep. Ken Cramer has already proved that he will add a consistent vote in favor of Trump's policies if promoted to the Senate.  He has voted for the tax cut, for the repeal of ObamaCare, for the border wall, and against sanctuary cities.  Cramer is a reliable vote for the Second Amendment, for rolling back overregulation, and for the pro-life cause.
With polls showing the race a dead heat, there is no doubt that North Dakota is among the top possibilities for adding not just another Republican, but a senator who will put his vote behind the Trump agenda.
FedUp PAC's goal for 2018 is to maintain and expand the GOP majorities in Congress to support President Trump and his conservative-populist agenda.
FedUp PAC wants to make sure that voters, especially in key states such as North Dakota, know what it means for them if Democrats are back in control of the Congress next year.
Just two years ago FedUp PAC set out to warn voters how they would suffer if Hillary Clinton were elected President.  We targeted states such as Florida, Pennsylvania, Michigan, North Carolina, and Wisconsin.  That effort helped swing them into line for Donald Trump while also helping elect senators in Pennsylvania, North Carolina and Wisconsin.
We can do it again in 2018.  We can make sure voters know why they must keep Republicans in control of the Congress and add to the Senate majority by electing candidates such as Ken Cramer.
But to win, FedUp PAC must have your help. 
We know how to use the latest technology to target the voters who will swing the elections.  This program of voter contact by email, FaceBook, etc. is relatively cheap, and highly cost-effective (especially compared to expensive TV spots seen mostly by non-voters and confirmed liberals), but it is not free.
That is why your donation of $25, $100, $500 or more to FedUp PAC is needed today – because with polls showing what could be an across-the-board Democratic triumph, even in some deep-red states, there is not a day to waste.
FedUp PAC is already planning what needs to be done to protect Republican control of Congress.  Those plans can move forward as soon as we have the funds to proceed.
With your help, we can make 2018 a year that moves us further toward Making American Great Again.  Without it, FedUp PAC will be sitting on the sidelines, unable to help.
So please, send your best donation of $25, $100, $500 or whatever you can afford.