July 28, 2016
FedUp PAC Staff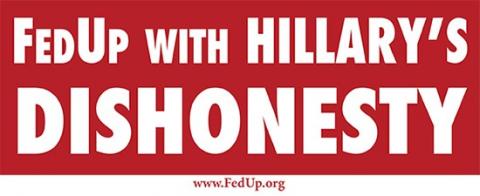 If you don't want to see or hear Hillary Clinton, you are out of luck. She will have the biggest, most expensive and most omnipresent campaign in American history this year.

Clinton will be all over TV, radio, and the internet. Her workers will be knocking on doors, finding her supporters, and making arrangements to get them to the polls on election day.

Money will be no object. To begin with, Clinton gets all the free media she could ever need. The TV networks especially love her, as do most major newspapers. They are promoting her election in what amounts to a massive "independent expenditure" campaign – one that will never show up in campaign finance reports.

But Clinton doesn't have to depend on free media. She will have all the money she needs to identify and influence swing voters, and then turn them out to vote. Her primary campaign raised so much money that she still had $44 million left in the bank after spending lavishly to beat Bernie Sanders.

According to the most recent reports filed with the Federal Election Commission (FEC), donations to Clinton have been almost five times greater than those to Republican nominee Donald Trump. Even when Trump's fundraising went into high gear in June, she was still $10 million ahead of him for that month.

Priorities USA, the largest of the pro-Clinton Super PAC's, has taken in more than $100 million, while all of the pro-Trump Super PAC's combined have an income of less than $10 million.

There can be no doubt that donors who give large amounts are getting behind Clinton. Such rich people are the ones who make six- or seven-figure donations to Super PAC's. A glance at Trump's FEC report shows that two-thirds of his donations have come from people who gave less than $200. For Clinton, the number is barely one-fifth, with nearly four-fifths coming in large donations.

Big Money and Big Media could make Clinton the next president – but that doesn't have to happen.

Fortunately, FedUp PAC can help close the gap between Trump and Clinton. We have a plan to bypass the traditional media and drive Hillary crazy.

Step one is to blanket the country with bumper stickers like the one above. While the media are creating the impression that everyone is for Hillary Clinton, these bumper stickers will remind everyone that Clinton is one of the most unpopular and distrusted politicians in the United States.

How will Clinton's supporters feel when they see these bumper stickers everywhere?

You can help us reach this goal by passing out a bumper sticker to your friends and relatives. Please go here to make a minimum order of 10 bumper stickers for $20.

If you would like 25 "Fed Up" bumper stickers to distribute, we ask that you send a minimum donation of $50.

If you would like 50 "Fed Up" bumper stickers, we ask for a minimum donation of $100.

I'm hoping we'll have so many of these out on the road that Hillary herself will hear about them from upset supporters.

But bumper stickers are only the start.

Clinton's campaign is boasting about their ability to reach independent voters. They plan to reach out, win them over, and drag them to the polls.

Trump has already made clear that his campaign won't be putting money into that kind of effort.

But FedUp PAC can fill the gap!

We have identified more than 20 million registered independent voters in swing states, and we want to contact them three times before election day with hard-hitting postcards telling them the truth about Hillary Clinton – the truth they won't get from the pro-Clinton media.

Targeting just these independent voters gives us more bang for the buck than TV or radio ads.

The My Own Super PAC project is preparing a series of 10 inch X 5 inch-sized postcard ads to mail to independent voters in the 13 campaign battleground states.

We will print these postcard ads on thick, heavy paper so they really stand out in the voter's mailbox.

Each one will inform the voter about the dangers of a Hillary Clinton Presidency including her plans to change, in her words, "deep-seated. . .religious beliefs," her view that instead of exterminating radical Islamic terrorists we should "respect" and have "empathy" for them, her plan to offer blanket amnesty to illegal aliens, her support of importing tens of thousands of Syrian and other Muslim refugees and her unlawful e-mail actions that put American lives at risk.

We will encourage all who receive a My Own Super PAC ad to make copies of them and pass them out to friends, relatives, and associates at work.

The goal is to get this information in front of as many voters as possible - especially undecided voters in the 13 battleground states who will decide the Presidential election.

I hope that in addition to purchasing "Fed Up" bumper stickers, you will send $25 to reach about 50 battleground state independents with a postcard ad.

Your larger $100 will extend the reach of one of our ads to 200 independent voters in a crucial battleground state.

Your even larger $250, $500, $1,000, or more donation will have that much larger of an impact on the battleground states. What's more, your donation will help FedUp PAC support conservative candidates and the work of other conservative groups.

There is no limit to a donation to FedUp PAC, and we can accept corporate contributions. So FedUp PAC can very effectively reach voters in key battleground states to defeat Dishonest Hillary.

We know Hillary Clinton is going to outspend Donald Trump – especially if you include the unreported independent expenditures of the liberal media.

But FedUp PAC can play a key role in beating Clinton in the crucial swing states. Our postcards can bypass the media with the facts that every voter needs to know.

Hillary Clinton can be beaten, but we need your help to do it. Give our bumper stickers to your friends. Help us send anti-Clinton postcards to independent voters in swing states. Clinton will win unless we work together to stop her.