August 11, 2017
FedUp PAC Staff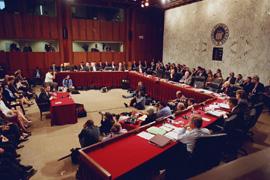 Conservatives want Congress to carry out thorough investigations of Democratic scandals and the flood of government leaks, according to a poll by FedUp PAC.

More than 97% criticized Republicans in Congress (who control investigations as the majority party) for "failing to be aggressive in investigating Democrats and government leakers."

Potential investigations would include the Clinton Foundation and it's pay-to-play connection with the State Department under Hillary Clinton, the Loretta Lynch-Bill Clinton meeting during the FBI's investigation of Clinton's emails, the "unmasking" of classified intelligence information on Trump associates by Obama administration officials during the 2016 campaign, and the developing financial and cyber-security scandal involving IT employees of Democratic members of the House.

Both the House and the Senate have opened multiple investigations of the Trump administration while largely ignoring significant evidence of Democratic scandals.

Leaks from within the Federal government, clearly intended to undermine President Trump and drive him from office, have become so frequent and serious that even opponents of the President have begun warning that national security is being harmed by the inability to keep secrets. Attorney General Sessions has recently increased the efforts of the Justice Department to identify and prosecute leakers.

FedUp PAC is a grass roots organization that wants constitutional conservatives to take over the GOP because Americans are fed up with the Republican establishment. It is not affiliated with any candidate or committee.