October 27, 2016
FedUp PAC Staff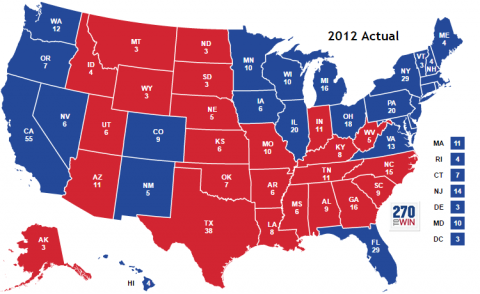 While the media are insisting that the presidential election is over, at least fourteen states are still up for grabs. 
Polling shows that Hillary Clinton is trailing narrowly or has a lead too small for comfort in the states of Colorado, Florida, Iowa, Maine, Michigan, Missouri, Nevada, New Hampshire, New Mexico, North Carolina, Ohio, Pennsylvania, Virginia, and Wisconsin.  Real Clear Politics, one of the most highly-regarded political websites, even lists Connecticut, Minnesota, and Oregon as states that could still be lost by Clinton.
This election is not over!
But it will be over in just nine days, and that's not much time to turn the tide decisively against Hillary Clinton.
Many voters who are undecided or wavering in their support for Hillary can still be persuaded to vote against her – if they know the full truth about her radical left agenda, especially her anti-Christian agenda.
And in many of these battleground states, Catholic voters are likely to make the difference – especially Catholic women.
That's why FedUp PAC is now targeting Catholic voters in the battleground states.
Clinton's gains in battleground state polling have been caused, in large part, by a swing toward her of Catholic voters.  We are going to get them to swing back the other way before November 8!
We just need to remind them that Hillary Clinton is 100% for abortion at any time, for any reason.  We need to remind them that Clinton has publically stated the need for laws that would force change in "deep-seated cultural codes, religious beliefs, and structural biases" – that is, making Christian beliefs criminal. 
We need to make sure Catholic voters know about the emails showing that Clinton's staff has nothing but contempt for Catholic beliefs, and that her campaign chairman, John Podesta created front groups for the purpose of undermining the authority of the leaders of the Catholic church.
There are millions of Catholic voters in the battleground states – more than enough to swing the election. 
And FedUp PAC is preparing to send those key voters the hard-hitting emails that will turn them into solid anti-Hillary voters.
You can see the email I'm going to send by clicking here.
But I need your help.
Sending one email is not very expensive – just four cents – but we need to send millions.
And we need to do that in the next few days.  Some people will be going to the polls this week, taking advantage of early voting in the many states that allow it.  Every day that passes will make our email campaign less effective.
That's why I need your help right this minute.  Your donation of $50 will allow me to send out 1,250 emails.  A donation of $100 equals 2,500 emails.  $1,000 would let me send 25,000 emails.
 And there is no limit on the amount that you can give to FedUp PAC.  If you want to give $10,000 to send 250,000 emails, you can legally do it.
You can also make your donation with corporate funds if that is most convenient.
But whatever you can give, please send it right now.  There is not a day, not even a minute to lose.
This election will be won or lost in the next few days.  You and I can keep Hillary Clinton out of the White House. 
But we cannot do it by sitting on the sidelines.  We must act right now to put the truth in the hands of Catholic voters who will decide this election.
Please send $50, $100, $1,000 or whatever you can afford so that FedUp PAC can tell these key voters the truth about Clinton.
Sincerely,



Richard A. Viguerie
Chairman, FedUp Political Action Committee


P.S.  We can beat Hillary Clinton if independent voters in key battleground states know what she plans to do to America.  That's why FedUp PAC needs your support today.  Every dollar you send allows FedUp PAC to reach the battleground state voters who will decide the winner of this election.