August 18, 2016
FedUp PAC Staff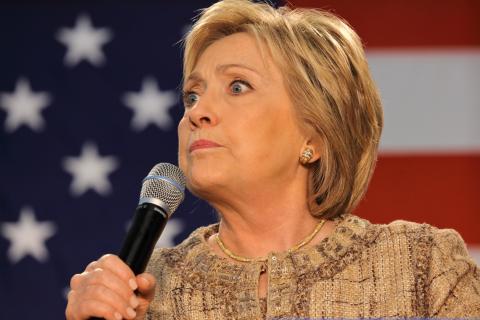 Battleground states are being flooded with more than a hundred million dollars of TV ads for Hillary Clinton and her radical agenda.  Almost nothing is being spent on ads opposing Clinton.
 But Clinton and her supporters are wrong when they assume that this one-sided campaign guarantees victory in November and a clear path to forcing her radical-left ideas on you and me.
 You can help right now to turn the tide against Hillary.  And it won't take a hundred million dollars.  It just takes a smarter, more targeted approach.  Click here to support My Own Super PAC's plan.
 Most of Hillary's ad money is wasted.  TV stations charge for advertising based on how many people are watching.  That means Hillary is spending huge sums to reach people whose minds are firmly made up, people who are not registered, and even children.
 That makes TV a very inefficient way of reaching undecided voters.
 By working through My Own Super PAC, you can carefully target independent voters in the few states that could go either way in November. 
 FedUp PAC is preparing postcard advertising that will be mailed only to independent voters in battleground states.  These are the people who will make the difference in electing the next President.  These are the people who must be warned what radical plans Hillary has for our country – plans that the news media carefully hide.
 We want to send a series of these postcards to every independent voter in every battleground state. 
 We are going to tell them exactly how they will suffer if Hillary Clinton is elected.
 For every one dollar donated for My Own Super PAC, we can send out a postcard that we expect to reach at least two people.  Click here to support My Own Super PAC.
 For just $10 you can tell 20 people the truth about Hillary Clinton.  For $25, you can get the word to 50 people about her radical-left plans for America. 
 If you can afford $100, we'll reach 200 independent voters with a warning about how Hillary's election will make their lives miserable.  Please click here and decide how much you can give to save American from Hillary Clinton.
 There is no limit on donations to support My Own Super PAC.  Even a company can make a donation.
 Time is running out, and we need to get started right now.
 Early voting will begin in just a few weeks in some states.
 That makes it very important for you to make your donation today.  Please go to our donation page right now and give as much as you can to defeat Hillary Clinton.
 And if you send at least $50, we will send you the "FedUp with Hillary's Dishonesty" bumper sticker produced by FedUp PAC.  Put it on your car and show the world you are not fooled by Hillary Clinton.