August 03, 2018
FedUp PAC Staff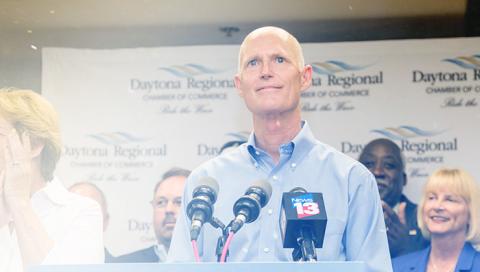 Florida was among the first states to signal Trump's 2016 victory, and it is fitting that it may throw out three-term Democrat Bill Nelson this year, replacing him with Rick Scott, one of the earlier governors to endorse Trump during the primaries.
Although Nelson represents a swing state that voted for Trump, he has most often voted against Trump-supported legislation, especially on the truly important matters.
Nelson opposed cutting taxes, opposed repealing ObamaCare, opposed the immigration bill endorsed by Trump, and voted for a "bipartisan" alternative supported almost entirely by Democrats.  He even voted to shut down the government over the issue of amnesty for illegal aliens.
While some Democrats in Trump states voted for Neil Gorsuch, Nelson voted no.  He is expected to show the same opposition to Brett Kavanaugh.
The Florida senator voted against confirmation for a majority of Trump's cabinet members, despite the long tradition of allowing a president to choose the people responsible for carrying out his policies.
Perhaps most bizarre was Nelson's comment after the Parkland school shooting, when he demanded a ban on the Armalite 15 rifle, one of the more popular hunting rifles in the United States and owned by millions of Americans.  According to Nelson, the gun should be banned because it was "for killing" – a standard that would outlaw every gun, especially those used for hunting and self-defense.  Yet the senator defended his position as "common sense".
Governor Rick Scott, approaching the end of his second term, is a challenger who is both a formidable contender and a sharp contrast to Nelson on the issues.
He is ready to help drain the swamp, pledging to support term limits for Congress, suspension congressional salaries if they fail to pass a budget, and a requirement to work full-time in Washington to earn their full-time salaries, instead of wasting so much time elsewhere.  Tax increases would require a two-thirds vote in each house of Congress if Scott gets his way.
The Governor publically supported the repeal of ObamaCare last year, pointing out that "Floridians simply cannot afford the high taxes and mandates of ObamaCare."
Nelson has denounced Scott for opposing gun bans and not extending the background check requirement to people who are not gun dealers.
The election of Rick Scott would clearly be a major boost to President Trump, and to all Americans who support Trump's populist-conservative agenda.  It would also be a warning to Democrats running in 2020, such as Alabama's Doug Jones, that they must get in line behind President Trump.
 And it is very possible that Scott will emerge the winner.  Polling shows a close race, and most polls show Scott with a very small lead.  This is one of the most winnable senate races in the country, and FedUp PAC wants to help make sure that Scott is the victor.
FedUp PAC's 2018 priority is to maintain and expand the GOP majorities in Congress to support President Trump and his conservative-populist agenda.
FedUp PAC wants to make sure that voters, especially in key states such as Florida, know what it means for them if Democrats are back in control of the Congress next year.
Just two years ago FedUp PAC set out to warn voters what the election of Hillary Clinton would mean to them.  We targeted states such as Florida, Pennsylvania, Michigan, North Carolina, and Wisconsin.  That effort helped swing them into line for Donald Trump while also helping elect senators in Pennsylvania, North Carolina and Wisconsin.
We can do it again in 2018.  We can make sure voters know why they must keep Republicans in control of the Congress and add to the Senate majority by electing candidates such as Rick Scott.
But to win, FedUp PAC must have your help. 
We know how to use the latest technology to target the voters who will swing the elections.  This program of voter contact by email, FaceBook, etc. is relatively cheap, and highly cost-effective (especially compared to expensive TV spots seen mostly by non-voters and confirmed liberals), but it is not free.
That is why your donation of $25, $100, $500 or more to FedUp PAC is needed today – because with polls showing what could be an across-the-board Democratic triumph, even in some deep-red states, there is not a day to waste.
FedUp PAC is already planning what needs to be done to protect Republican control of Congress.  Those plans can move forward as soon as we have the funds to proceed.
With your help, we can make 2018 a year that moves us further toward Making American Great Again.  Without it, FedUp PAC will be sitting on the sidelines, unable to help.
So please, send your best donation of $25, $100, $500 or whatever you can afford.