April 26, 2018
FedUp PAC Staff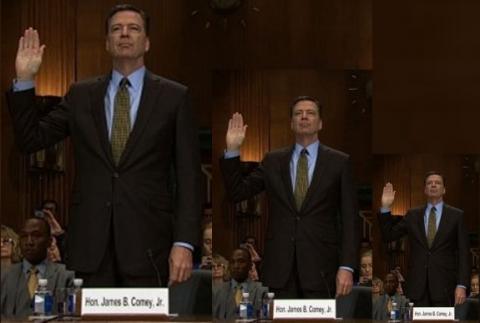 Conservatives believe that the FBI has been gravely damaged by former Director James Comey, according to a poll by FedUp PAC.  More than 97% agree with the statement that Comey's actions have done "tremendous damage" and have helped expose "the bias and partisanship among many FBI leaders."  Those responding to the poll predict it will take years of reform for the FBI to regain its old reputation for impartiality and professionalism.
Less than 2% say that the FBI has treated President Trump and Hillary Clinton fairly and impartially.,
The FBI has suffered from one scandal after another recently.  Documents show that some FBI agents routinely denigrated Trump and talked about having an "insurance plan" to use against him in case he was elected.  A FISA warrant to spy on one Trump advisor was obtained by failing to tell the judge that the investigation was based on an unverified partisan document paid for by Hillary Clinton's campaign.  One high-ranking Justice Department official had an undisclosed conflict of interest, being married to an employee of the firm working for Clinton.  The deputy director, Andrew McCabe, was fired for leaking and lying, and his case has become a criminal referral.
The FBI took another black eye when it was revealed that they had originally found Hillary Clinton guilty of a crime ("gross negligence" in handling classified materials), yet decided to declare her innocent.  Evidence has also emerged showing that the FBI failed to act when a foreigners (and Clinton Foundation supporters) were caught using bribery to get Obama administration approval for commercial deals.
In addition to  what happened at the FBI under Comey's leadership, Comey himself is being investigated and could be indicted for leaking classified information.
FedUp PAC is a grass roots organization that wants constitutional conservatives to take over the GOP because Americans are fed up with the Republican establishment.  It is not affiliated with any candidate or committee.