May 04, 2018
FedUp PAC Staff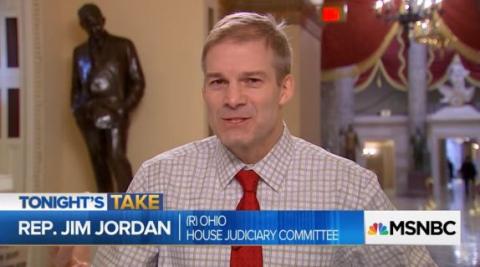 Last Friday, after CHQ press time, our friend Deroy Murdock of National Review, posted a lengthy article about the conservative groundswell building to elect Jim Jordan Speaker of the house.
Mr. Murdock is right, conservatives increasingly are promoting Representative Jim Jordan (OH-4) for Speaker.
Of course, this won't matter, should Democrat Nancy Pelosi (CA-12) return as speaker, and Chuck Schumer (D., N.Y.) replace the bumbling McConnell. If Republican legislators want to avoid that nightmare and pursue the dream of a Jordan speakership, they had better legislate said Murdock.
And Murdock nailed it when he said, "House Republicans need this sharp, lively, and fearless four-time state wrestling champion (record: 150 wins, one loss), not the bland, cautious, and conventional McCarthy."
By Deroy Murdock's count "at least ten conservative-activist organizations prescribe Jordan over McCarthy. These include Tea Party Patriots, the American Family Association, Gun Owners of America, and the legendary Richard Viguerie's FedUp PAC. "
Jordan's and McCarthy's differences are substantive and stylistic noted Murdock.
To read the full article, follow the link below.
http://www.conservativehq.com/article/27869-national-review%E2%80%99s-de...