October 02, 2018
Conservatives believe that Senate Republicans should have proceeded to vote on and confirm Brett Kavanaugh to the Supreme Court this week, rather than surrendering to Democrat demands for another delay in the process, according to a poll by FedUp PAC. Continuing with the vote, originally scheduled for Tuesday, October 2, had the support of 87.9% of those responding, while 7.7% supported the delay...
Read More >
October 01, 2018
How can a Republican win in a district with these characteristics? Hillary Clinton won this district by 11.6% in 2016 Democrats have held this seat for 139 years It's 73% Hispanic and African-American Beto O'Rourke is supposedly running strong in his race against U.S. Sen. Ted Cruz, giving emotional momentum to the state's Democrats The GOP candidate ran for this seat four years ago and lost by...
Read More >
September 28, 2018
The disgusting behavior of the Democrats, recklessly bringing forward a string of evidence-free accusations against Judge Brett Kavanaugh, will be a standard Democrat tactic in the future unless the voters punish that behavior by voting a straight Republican ticket in November and reelecting Republicans majorities in both houses of Congress. The Democrat party, from its elected officials to party...
Read More >
September 26, 2018
Democrats hate tax cuts (for you and me).  They love tax cuts—even tax elimination—for their favored constituencies (the "poor"), so they can count on their votes on Election Day.  It's as simple as that.  Democrats love tax increases (for you and me).  Higher taxes and higher deficits are the only ways they can pay for their wish-list of new and expanded government programs if they gain control...
Read More >
September 25, 2018
Conservatives see the confirmation vote on Judge Brett Kavanaugh as the issue that will allow Republicans to not only hold but even expand their Senate majority this fall, according to a poll by FedUp PAC. A large majority of 91.4% say that campaigning in support of Kavanaugh allows the GOP to highlight how "radical and unscrupulous" the Democrats have become.  Another 5.3% fear that Kavanaugh...
Read More >
September 24, 2018
That's why they will oppose EVERY Trump judicial nominee if they gain power One of President Trump's greatest accomplishments during his first two years in office has been his judicial appointments.  Confirmation of his conservative picks will come to a screeching halt if the Democrats gain control of Congress.  Front and center in the headlines, of course, are his Supreme Court nominations (...
Read More >
September 21, 2018
The Kavanaugh confirmation fight has proven that the Democrats are not only too radical to be trusted with the power of government, they are also far too ruthless and lacking in any moral limits. Having failed to make a case against Kavanaugh's sterling record and abilities as a judge, the Democrats have resorted to an unscrupulous smear campaign.  Without no evidence whatsoever, they have...
Read More >
September 20, 2018
Just as Republican leaders are waking up to the fact that complacency and low voter turnout could cost them the 2018 elections, a poll by FedUp PAC proves that the problem is very real.  More than half of conservatives say they are confident Republicans will win in November, despite polls showing that Republicans will probably lose the House and possibly the Senate as well. Fifty-two percent of...
Read More >
September 19, 2018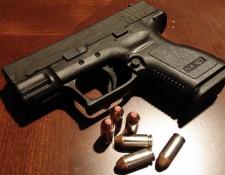 That's one of their highest priorities if they win the election The Democrats aren't talking about "gun control" this year. Instead they're all for "gun safety," "strengthening gun laws," and "making communities safer." Don't let them fool you, however. Now more than ever, the party that has been taken over by radical extremists wants to grab your guns, step by step, but as rapidly as possible....
Read More >
September 17, 2018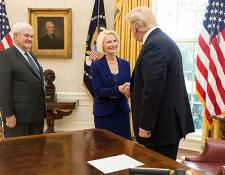 Newt Gingrich was the architect of the Republicans' "Contract with America," which led the GOP to victory in 1994—the first time in more than 40 years that the party won a majority in the House of Representatives. That Contract nationalized the election. It presented the Republican position on national issues that were important to voters, and gave those voters a reason to vote Republican....
Read More >
Pages