April 28, 2016
FedUp PAC Staff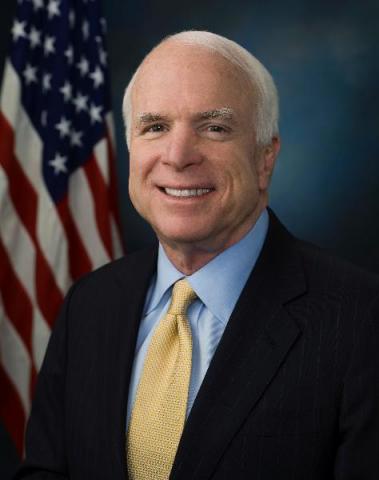 The first general election vote won't be counted for another six months, but certain Republicans-in-name-only (RINOs) are already setting up Donald Trump to take the blame in case the November 8 results don't go their way. In the case of at least one well-known RINO U.S. Senator, though, he might not even make it to November.

The March 24 post on the popular conservative website Townhall headlined "McCain Could Be Fighting For His Political Life This Year" just might be a sign of things to come for RINO politicians trying to hold onto public office in states where voters have had just about enough of the Republican establishment. The RINO in question, of course, is U.S. Senator (and failed 2008 Republican Presidential candidate) John McCain. The state is Arizona. While Northern "snowbirds" still flock there to retire in the dry desert heat, McCain may soon find out the hard way that he is no longer their cup of tea.

Naturally, McCain surrogates are saying all the right things. "I don't know that I've ever seen Sen. McCain more energetic and engaged in a campaign effort than he is this time," gushed former U.S. Senator Jon Kyle recently. That may be true, but not even hard work – not to mention nearly 100% name recognition in Arizona after 30-plus years in office -- could be enough to save McCain this time.

For one thing, reports Townhall, the war chest available to McCain won't be nearly as large as it was the last time he ran for U.S. Senate reelection in 2010, when he had access to nearly $20 million from his 2008 run for President. What's more, McCain's likely Democrat opponent, liberal Congresswoman Ann Kirkpatrick, is no pushover. She's running neck-and-neck with McCain in the available public polling. Not to worry though. Even if Kirkpatrick were to defeat McCain, his RINO pals already have an excuse warmed up and ready to go.

According to retired Arizona Congressman Jim Kolbe – one of the more liberal Republicans to have served in Congress – Donald Trump is the one taking McCain down. "I don't see how Donald Trump helps any incumbent Republican. I think he's a drag on the ticket," remarked Kolbe to the Townhall reporter without producing any evidence to back up his point. What Kolbe hasn't considered (or won't acknowledge publicly) is a threat to McCain just as serious as any blustering Republican New York billionaire or any Democrat opponent: conservative Arizona Republican voters who have had their fill of McCain's constantly siding with liberal Democrats on the U.S. Senate floor.

In Maricopa County, a jurisdiction containing over one-half of Arizona's population, the Republican Party in 2014 made their opinion of John McCain crystal clear. The county GOP organization voted to censure McCain, and it wasn't even close. The vote was 1,150 for censure and 351 against. The official censure resolution was chock full of examples of McCain flip flops, betrayals and a promise that "until he [McCain] consistently champions our Party's Platform and values, we, the Republican leadership in Arizona, will no longer support, campaign for or endorse John McCain as our U.S. Senator."

At least one Arizona Republican isn't waiting around for McCain to change his ways. Kellie Ward was elected to the Arizona State Senate in 2012 but later resigned her seat to challenge McCain in the state's August 30 U.S. Senate primary election. Dr. Ward boasts strong fundraising numbers, a poll from last summer showing her with a nine-point lead over McCain and the endorsement of 17 state legislators and state GOP leaders. She could be the answer to John McCain that conservative Republican voters in Arizona have been waiting for. If Dr. Ward succeeds in knocking out McCain, his establishment apologists might still find a way to blame Trump. After all, the last thing Republican insiders would do is point the finger at McCain's RINO voting record. If you're waiting for the GOP establishment to admit the obvious, don't hold your breath.

Please take this chance to fill out the FedUp PAC Instant Poll and let us know where you stand.